This vote is for 3 new retractable extension cord reels, 2 new retractable hose reels, and all the equipment required to install them and move the air hose reel we already have.
With the work tables pretty much done, and having gotten good use, it's become clear it's common to need power at them, and extension cords are a hassle. Likewise, It's common to need compressed air in the wood shop and metal shop.
To this end, I am proposing that we:
Move the current air hose reel to above the woodworking workbench (area in yellow rectangle bellow) so that the woodworking area has both retractable air and power
Add new retractable power cords above each of the big tables in the general area and above the standing welding table (yellow Circles and Triangle below)
Add new retractable air hoses above the standing welding table and the big table nearest the metal shop (yellow circles below)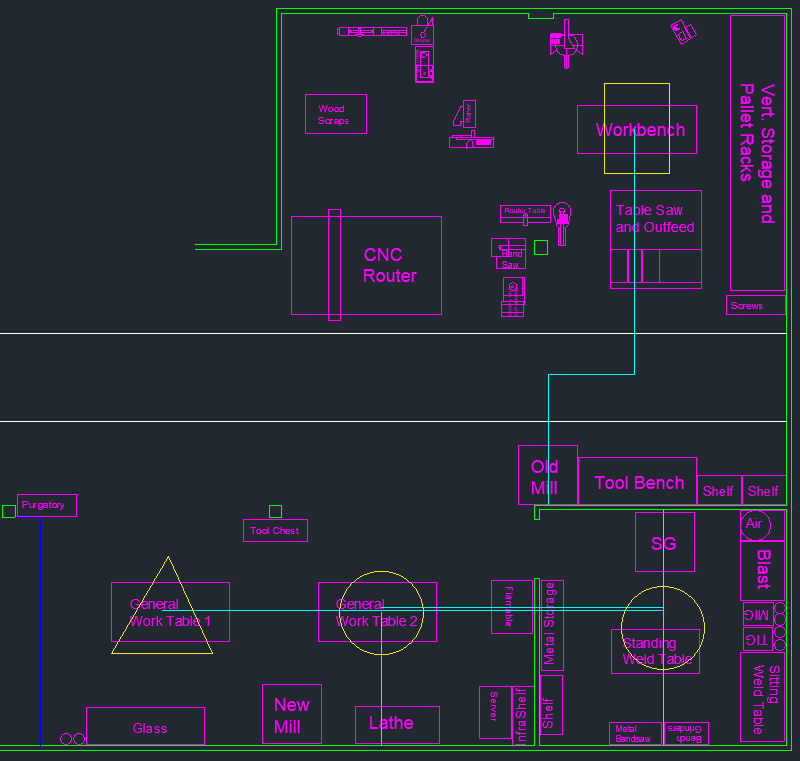 My tally of the required materials to do all this is as follows:
| > > Total | $681.92 |
| --- | --- |
| > $ per | Qty. |
| Retractable Cord Reel, 40-Ft, 12/3, Triple Tap | $79.99 |
| Retractable Air Hose Reel, 3/8 In. X 25 Ft. | $57.99 |
| Air Hose Lead, 3/8 In. X 3 Ft. | $4.49 |
| 12/2 MC Cable, 250ft (Need ~115 ft) | $103.00 |
| 20 Amp, 1 Pole Breaker, Square D, QO | $8.00 |
| 20 Amp Single Outlet | $3.50 |
| Single Gang Box | $3.00 |
| Single Outlet Cover | $1.00 |
| Pipe and Fittings for Air (3/4", ~45 ft + fittings) | $100.00 |
| MC connecters (pack) | $25.00 |
| MC Insulator Sleeves (pack) | $10.00 |
| Air Quick Connects | $7.00 |
Much of the electrical and air fittings we likely already have at the hive, but just in case we need more I'm leaving it in the vote (I'll obviously only buy what's needed if the vote passes). To give a buffer for unexpected material or shipping, I'll put the vote at $800.
For those curious, my intent would be to run each power cord from it's own new breaker in Panel 3 (I checked, there is space) so they can be used with high power tools simultaneously without issue. The new air reels would tie in to the air system where we currently have connections against the front wall in the metal room and welding room, eliminating those wall connections. The air reel currently above the mill woudl have it's run extended to over the woodworking bench and be moved next to the existing power reel over there.
The Install work is all stuff I have done before and feel comfortable doing, if this passes I don't mind doing the work to install it all. However, help would be most welcome. I can teach the electrical or plumbing skills required, it's simple stuff that once learned is just a matter of elbow grease to get it done.
Thanks,
Kevin McLeod
Hive13 Secretary and Woodworking Warden.