Cc:
Don't forget your tickets

Available on
App Store

Add to
Passbook

or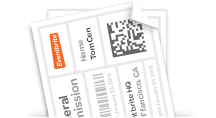 Paper Tickets

Open the email attachment
or download here
Questions about this event?
Contact the organizer at cto@hive13.org
About this event

Saturday, September 24, 2016 from 2:00 PM to 4:00 PM (EDT)

HIVE13 - Cincinnati's MakerSpace
2929 Spring Grove Ave
Cincinnati, OH 45214



Add to my calendar:
Google · Outlook · iCal · Yahoo
Create your own eventAnyone can sell tickets or manage registration with Eventbrite.

Discover great eventsFind local events that match your passions.

This email was sent to tiffanybell04@gmail.com
Eventbrite | 155 5th St, 7th Floor | San Francisco, CA 94103
Copyright © 2016 Eventbrite. All rights reserved.
27856800440-552611345-ticket.pdf (36.2 KB)