Hi Exhibitors!
Thank you for participating for iSPACE DAY! With over 1,400 people registered for this event, we are grateful that you have signed up to help make this an exciting day of STEM activities for Greater Cincinnati families.
What you need to know:
EVENT DATE: Saturday, October 15, 2022; From 10:00 AM to 2:00 PM
EXHIBITOR ARRIVAL TIME: About 9:00 AM, or based on your estimated time needed to unload/setup and park

DROP OFF LOCATION: SEE TABLE BELOW FOR SPECIFIC EXHIBITOR PREFERRED DOOR TO DROP OFF, THEN MOVE CAR TO PARKING
PARKING LOCATION: Cincinnati State Workforce Development Center: 10010 READING ROAD CINCINNATI, OHIO 45241 (iSPACE is right down the street past the Boy Scouts).
iSPACE LOCATION: 10020 READING ROAD CINCINNATI, OHIO 45241
WHEN YOU ARRIVE: Come in preferred iSPACE doors, find table, and unload supplies.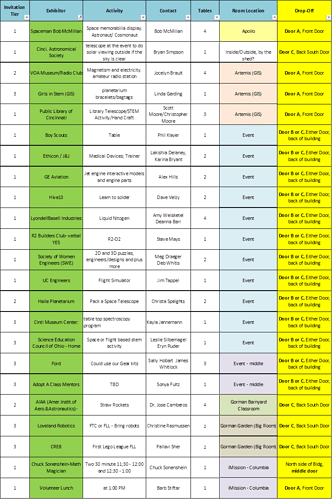 If you have any questions, please contact Barb Stiftar 513-484-3559.
Thank you so very much!
Barb Stiftar
iSPACE Volunteer Coordinator
(513) 484-3559