Hey everyone! I'd like to invite you to join a live-stream of Hive13's first castings being poured with our new investment casting equipment!
I'll be running the burnout cycle to cast 2 flasks Sunday, starting in the morning, with the intention of starting a live stream around 6:00PM to actually melt the metal and make the pours.
I hope anyone interested will join in and watch!
On Sunday, you can join with Google Meet here: https://meet.google.com/cot-qtah-jfo
I'll be doing two melts and pours, one bronze and one silver for the two flasks containing the waxes shown below.
Thanks!
Kevin M.
Kayla and I's waxes to be cast in bronze: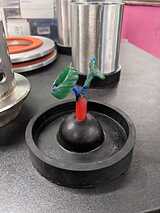 Dave S.'s, Lisa's, and I's waxes, to be cast in silver: