Hey woodshop users! let's plan on having the next Dust Collection Work Day on Saturday, July 31st, 2021 from 1:00pm-5:00pm.
Last weekend we got a fair bit done, we:
Installed the external vent for the cyclone to vent outside,
Installed all the necessary wye fittings in the main duct for each branch, and
Installed the branches leading to the sanders and the bandsaw/jointer.
The goals for this workday will be to:
hang the remaining branches to the router table, planer, miter saw, and drill press/scroll saw
connect the tools we have blast gates and adaptors for
inventory the remaining blast gates and connection parts we require to get every tool connected to dust collection
With the number of duct lines we need to hang, there is room for many hands on this project! 6 to 10 people could easily be put to work, and no prior experience or knowledge is necessary.
I look forward to seeing everyone there!
Thanks,
Kevin M.
Hot Crafts Warden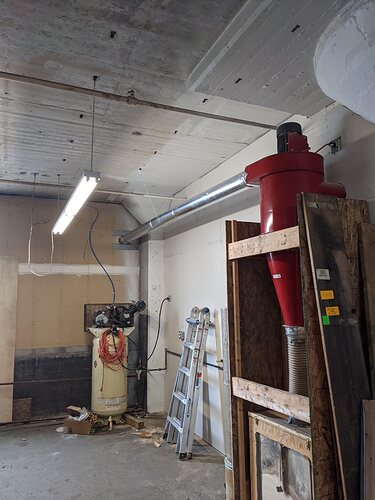 DustCollection.pdf (100 KB)