Anyone else at Hive interested in bicycles? Mountain, Road, BMX, City, Trials, etc.?
One of the young makers visiting last night was interested in the ability to repair and maintain his wheelchair.
There is quite a bit of overlap in that tech.
I would be more interested if i had a bike but no i have a unicycle and im not even that good at it
Connor, What is your bike situation?
I've currently got my City bike decked out with a big front basket, fenders, shimano 8 speed hub, and EL wire from BLINK. I've also got a specialized ?fuse? (I think, been a while since I had a reason to look at the model name) fat tire hardtail mountain bike set up as 1x9 (this area has great mountain bike trails, thanks to coramtb.org). I also still have my self-built BMX bike despite yesterday being the first time I have ridden it since college (2009-2013ish) and hasn't been regularly ridden since before that. But Rigby (my 3 year old son) saw it in the garage and said he wanted to ride his bike with me riding my "small bike" so I went with him to the Florence skatepark. It was humbling, but I had fun and he had a blast!
I have a number of bike related tools I'm willing to donate to the hive if they will be used. The most important being a park tools repair stand. It's a collapsable one that can be folded up and tucked away when not used.
Pictures below are of my three bikes (BMX pic is very old and only pic I could find of that bike), and two picture of the shop I used to work at on the day an old lady decided to creatively "park" when she was visiting.
And here is a shameless dad video of yesterday: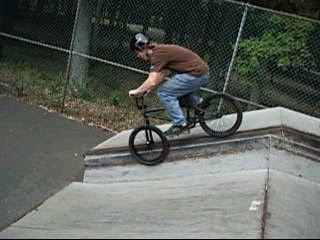 You don't have to be good on a unicycle to be better than most people.