For those of you who have not already seen in slack, I spent last evening trying to get the air compressor back running. Ultimately, It got way to late and I had to leave without it fully complete, but it should not be hard for someone to pick it up where I left off this weekend. If you have ANY familiarity with electronics, you should be able to finish it up from where I left it. I will not be able to be back in till Tuesday, so if someone could please work on it this weekend, it would be greatly appreciated, as this is a pretty important part of our infrastructure.
I started by working from what was on the breadboard to reverse engineer a schematic for it, turns out it's a pretty simple thing with basically two power switching outputs (one for the head relief solenoid, and one for the motor relay) and a single analog input from the pressure sensor. There was also a simple power supply to provide 5v to the microcontroller and pressure sensor. The relay and solenoid both operate on 12v from a laptop power supply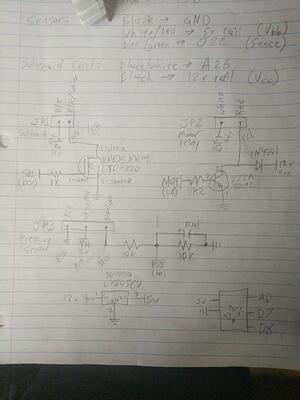 I soldered up all of that onto a perfboard (poorly, because this is not my thing), but was unable to test it all before I left: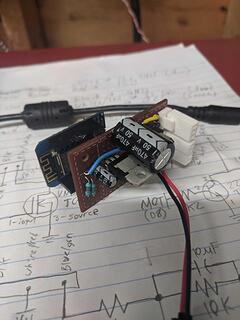 I left the board and the circuit diagram on top of the Lathe tool chest near the air compressor: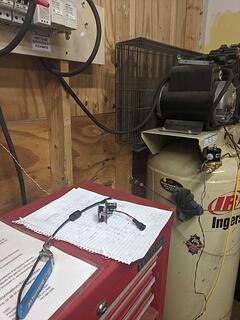 The only things that still need to be done are to put connectors on the solenoid, relay, and pressure sensor leads and plug it in and test it to make sure it works.
The connectors are the same ones used for 2 and 3 pin PC fans, I have the housings on the headers on the perfboard, but someone will either need to find the pins to primp on, or steal some connectors with leads from some fans.
I ran colored wire to each of the headers on the perfboard, the connections to the devices should be as follows: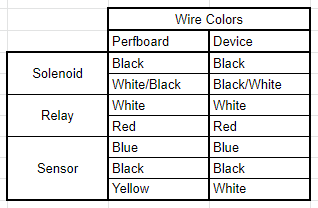 Once those are hooked up, connecting the 12v supply to the barrel jack should cause the air compressor to begin to cycle, once it reaches 175 PSI, the motor should stop, and the solenoid valve should release a small burst of air to relieve the pressure on the piston head. It should then idle till the pressure drops below some lower set point (~125 PSI I think?), at which point the same cycle should repeat. The microcontroller also prevents the cycle from running during quiet hours, so if you are testing it out, be sure it isn't quiet hours.
Thanks in advance to whoever picks this up from where I left off. Hopefully someone can finish it off and have it running tonight or tomorrow during the saturday cleanup.
Thanks,
Kevin M.
Secretary & Woodworking Warden